Hey Beautiful,
I know I just reviewed the
JR Watkins Cuticle Salve
but I have found yet another great cuticle salve. It may even be better. It is the Sally Hansen Nails & Cuticle Hand Creme, 24 hour moisture. This is one of the few products that promises 24 hour moisture and actually delivers it. I rarely ever have to ever reapply, between the weekly manicure I give myself. Even when I do put it on before I do my nails, I really don't have to. In the winter it may be different, since my hands get terribly dry. I don't use this creme as a hand lotion, but if I have some left over I do rub it in. As with my cuticles it leaves my hands soft for hours. Not as long as my cuticles because I work with my hands. On the tube it says that it is a Shea butter scent, which it is with a slight lemony scent. It's lemony, without smelling like furniture cleaner.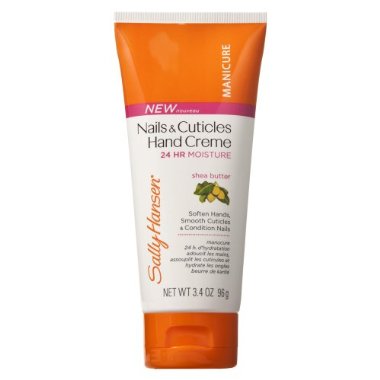 The true test of how well this Cuticle Creme works, is when I used it on my boyfriend earlier this week. He thought the JR Watkins cuticle salve smelled too girly so we went with the Sally Hansen one. He has a really bad tendency of biting and ripping his cuticles, which leaves them rough and hard and really gross. I just had to take matters in to my own hands or at least try. I didn't realize how easy it would be with this creme. Right away his cuticles softened up and became nice. This product is a miracle worker as far as I am concerned. % days have passed since we used the creme on his cuticles and they still feel nice and soft. This product is great and I 100% recommend the Sally Hansen Cuticle Creme.
See you later, Rose
DISCLAIMER: I received this product complimentary for testing purposes from Influenster.